Simplus Modpack
Author:
Simplus
|
Mod updated:
Sep, 22
|
Game version:
1.1.0.1
|
Mod version:
1.1.0.1#1
Description

Blessed by RNGesus, a hella dank, dirt simple, super crisp, clean as fek, pro, scrub and potato level friendly modpack for dem long-ass gaming sessions — Brought to you by your brah Simplus. Be ma dawg or whateva and run with it homie. Peace and love, yo!
A collection of solid mods with proven track records including some useful XVM modifications such as floating in-game WR, WN8/WGPR & Vehicle WR above tanks (OTM's) — all tweaked to enhance simplicity, accessibility and usability of information.
🡆 Simplus YouTube for visual examples of gameplay, crosshair, sixth sense audio etc., or go
🡆 Simplus Twitch for more of the same.
Current modpack & contents for WOT 1.1.0.1:
Simplus Modpack 1.1.0.1 #01 build date 2018-09-20
WG approval date: 2018-09-22
• XVM XVM 7.7.3 [8622] (2018-09-20)
• Simplus Custom Reticle (2018-09-20) based on PROTanki's Crosshair & Andre_V's Destroyer Aim Circle. Both ripped from Aslain's ModPack v1.1.0 #15 (2018-09-18)
• PMOD #35-2 - Zoom In + Zoom Out + In-battle Results (2018-09-18)
• TPblHbl4_78's Camo Icons for Carousel & Tech-Tree (2018-09-20)
• Custom Sixth Sense Audio Ticker, download as standalone mp3
• Red_Noise Vehicle Contour Icons 1.1.0#9 (2018-08-30)
• YasenKrasen Color Session Statistics 1.1.0.1 Core + V1 Background (2018-09-20)
• Elkano's Minimap Ping Spam Blocker 1.9 (2018-03-21)
• Awfultanker ServerMarker 1.1.0.1 (2018-09-20)
• spoter's Marks On Gun Extended 1.1.0 (2018-08-28)
Installation Guide
Extract to or move the unzipped RAR contents of this pack into your root WOT installation directory.
NB! Clean up and/or empty your mod folders before installation:
• \mods\
• \mods\1.1.0.1\
• \res_mods\
• \res_mods\1.1.0.1\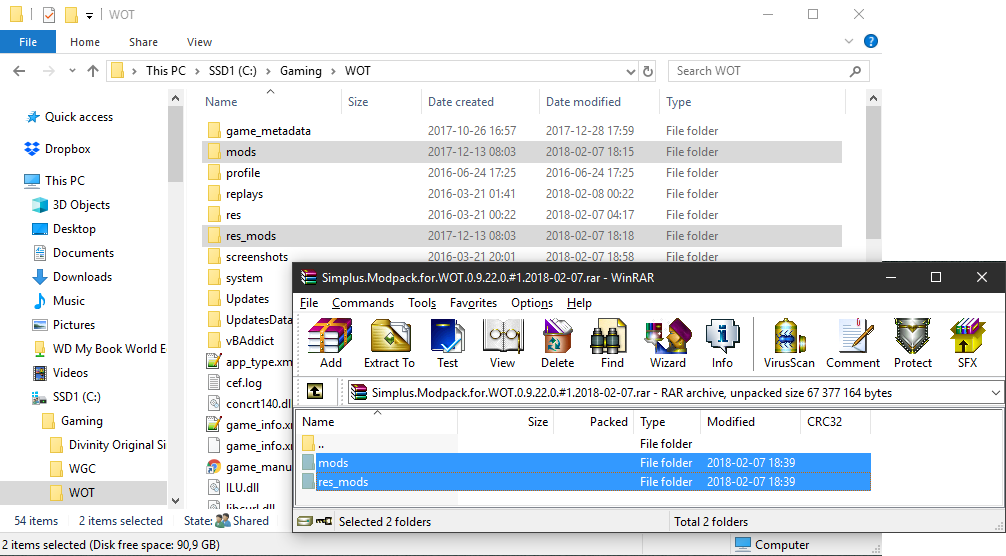 Recommended Reticle Settings @ 2018-07-25
• Indicator: Diagonal
• Central Marker: A-shaped I
• Aiming: Circle I (with load indicator)
• Gun Marker: A-shaped I (with armor penetration indicator)
Recommended Sound Settings
• Sixth Sense Activation Sound: User sound
PMOD Settings
• Zoom-in steps: \mods\configs\pmod\zoomX.json @ "zoomXSteps": [2, 4, 8, 16]
• Zoom-out distance in meters: \mods\configs\pmod\zoomDistance.json @ "arcadeDistance": [2, 150],
Minimap Ping Spam Blocker Settings
• \res_mods\configs\ElkMPSB.json
ServerMarker Settings
• Config: \res_mods\1.1.0\scripts\client\gui\mods\at_servermarker\AT_ServerMarker_config.json
• Current marker: "texture": "pentagon_red64.dds",
Change Log